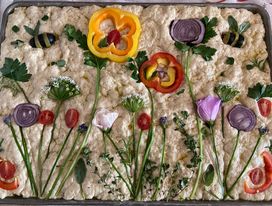 Gluten Free FOCACCIA! With Conny/ November 11th
You think gluten-free tastes like cardboard? Come and join the class and find out how delicious it can taste!
We are learning about different flours to use in gluten-free baking and an awesome ingredient to hold it all together.
You will taste different focaccias, get your hands on making a dough and the best part is to decorate your focaccia to take home after baking!
Bring your own beverage and let's have fun!
Please be aware the class is not situated for severe gluten intolerant people since there will be cross contamination with wheat flour.
———————————————————————————————————————————————————————
My name is Conny. I'm born in Germany and lived there until my mid 30s. My Mom and Grandma were the first to teach me how to cook and bake. They did it so well my first idea about an occupation was to be a cook!
After I moved to America I was home to raise my boys. During this time I spend lots of time in the kitchen to feed my family. My boys know a lot of German dishes!
During this time I started cake decoration and made all the birthday cakes for my family. I also made petit fours for weddings and baked bread for a restaurant.
Later on I worked as a cook and baker in a wonderful tea house in Ohio, had an episode as head cook for a middle school in Waukee and recently helped prepare delicious dishes at the Wallace Centers of Iowa. 
I'm the owner of SunRose Bakery where I focus on baking gluten-free and vegan goods. 
I'm very happy to teach you my favorite German dishes!
————————————————————————————————————————————————————–
PLEASE, PLEASE, PLEASE, PLEASE read the cancellation policy (that you will find at the bottom of Public Cooking Classes page) before you sign up!
Parking

 

is available on the street close to the store. There are 2 big parking garage in the East Village as well.
The store is situate on East 4th, on street level, across from Stick's (so don't go inside the building).
– Tap water is provided in class.
Please bring any beverage you want. I have Wine glasses and openers.
Please DON'T bring any extra food to class. You are going to prepare something that will be enough for dinner.

 

While we explain the class you can nibble the focaccia bread that you will find on the table.
Let's have fun!!!!!
Sold out!