Hello,
Thank you very much for learning more about our Private Cooking Classes!
Perfect for Birthday Celebration, Bachelorette Party, Book Club meeting, Team Building (lunch or dinner) Celebrate Life and Happiness. Private classes are a lot of fun!
You can choose ONE of those dishes:
Lasagna, Gnocchi, Fettuccine, Risotto, Focaccia, Chicken Spiedini
3 pasta Sauce, Saltimbocca, Appetizers, Meatloaf. There is more in the Menu.
Please contact Alessandra Directly if you want a dish that is not listed! alessandra@cookingwithalessandra.com
Class is 2 hours.
Deposit of $600.(which also covers 10 people) Groups less than 10 will
also be $600.
Maximum advised is 14 people. ($60 a person)
I can send you an invoice with Paypal
OR
You can send check at : Alessandra Meschini, 333 East Grand Loft 103
50309 Des Moines
Very Important: Your spot is safe ONLY once I receive the Deposit.
No classes Fridays, Saturdays evenings and Sundays is closed.
You can bring your beverages and an extra dish to share with your group
of friends.
Mille grazie e a presto,
Alessandra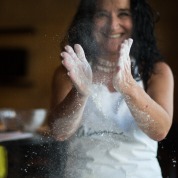 Fill out the below to request a private class: