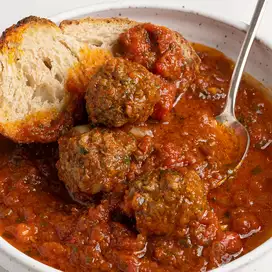 Meatballs from Naples and from Sicily! July 3rd
A meatball is ground meat rolled into a ball, sometimes along with other ingredients, such as bread crumbs, minced onion, eggs, butter, and seasoning. Meatballs are cooked by frying, baking, steaming, or braising in sauce. There are many types of meatballs using different types of meats and spices.
Let's make some Sicilian and Neapolitan style in this super fun class. Bring your wine and let's lean everything about Polpette!!!
IMPORTANT: Please, please, please, please, please, read CAREFULLY the cancellation policy before to reserve your spot.
You can find the cancellation policy at the bottom of the Cooking Classes Page. Grazie Mille
Parking

 

is available on the street close to the store. There are 2 big parking garage in the East Village as well.
The store is situate on East 4th, on street level, across from Stick's (so don't go inside the building).
– Tap water is provided in class.
Please bring any beverage you want. I have Wine glasses and openers.
Please DON'T bring any extra food to class. You are going to prepare something that will be enough for dinner.

 

While we explain the class you can nibble the focaccia bread that you will find on the table.
Let's have fun!!!!!
Sold out!