CLICK ON THE LINK AND ENJOY THE ARTICLE….SEE YOU SOON IN ITALY COME WITH ME!
My brother Andrea and I started the cooking tour in Italy 6 years ago, just playing with the idea of having the opportunity of showing our beautiful city Viterbo and region Lazio to as many people we could. That day, we were at the Bolsena Lake and we just had a little, white piece of paper that we fill up so fa
st with places to visit, restaurants we liked, famous gelaterias, boat tours and wineries.
In those years, our family in Italy, my mamma and dad, zia Rosetta and my brother's girlfriend Rosella embraced and "adopted" a lot of friends around the table, cooking, laughing, making memories that will last forever.
This is the best, most authentic way to emerge and breath Italy, its culture, food and art!
Come to Italy with me! A family is waiting for you!
Alessandra, Andrea, Rosella, Rosetta, Anna, Fernando!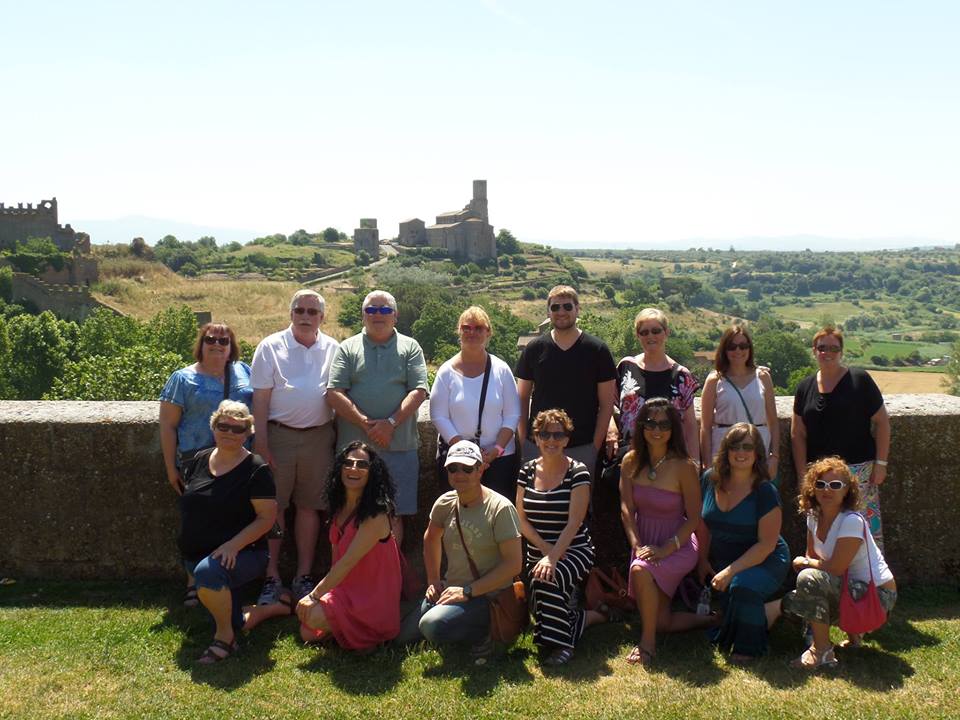 "If you have been wanting to go to Italy, experience the culture, food and wine on a local level you need to go with my friend Alessandra! She and her entire family help you experience Italy like a local. One of my favorite times was,making pizza with Alessandra, her brother and her aunt at her parent's farm. The best part…having her dad's homemade wine and her brother's homemade limoncello. You will visit towns that don't make the tourist books, but should. You'll visit wineries that are hundreds of years old. You'll get guided tours by a local that makes you understand how important history is to the Italians. This is the most cost efficient and exciting way to go to Italy for 7 days and have the time of your life. Just do it…you won't regret it!"

Elizabeth, 2014
Testimonials
Both trips were great fun!  Alessandra's careful  planning  gave us time to improve our culinary skills AND see/experience REAL Italy.  Easy on the budget, too!
I had the pleasure to go to Italy with 2 of my cousins in 2014. We attended the first Wine trip with Alessandra on her tour. I cannot speak highly enough. Once we arrived, everything was taken care of. All we had to do was sit back and enjoy. All the tours were fantastic, the Agriturismo where we stayed was outstanding. The food, wine and views were fabulous. We really felt like family. I plan on going on another one of her tours. I would suggest if you get the opportunity to go, please join Alessandra and her family in Italy, you will not regret it.
I went on Alessandra's cooking tour in June and  Laura would love to do it again. It would be hard to say what I liked most. Italy is beautiful. The people were so welcoming. And then there's the food! From the days exploring the villages and sites ,to the nights with her wonderful family it was an experience of a lifetime. If you ever wanted to experience real Italy this is the way to do it!
The Italian Cooking tour with Alessandra exceeded all of our expectations! The travel plans were easy to pull together. Alessandra couldn't possibly be more accommodating throughout the experience. We saw some of the most gorgeous Italian scenery throughout the detailed itinerary she put together. There isn't a better way to tour some of the most unique and special places in Italy than with a local who knows all of the best kept secrets. Her family felt like OUR family, welcoming and delightful! We met new friends and cherished the special events and activities we participated in. One of my favorite meals was alongside a beautiful lake. The food is amazing and we had the chance to experience different styles of cooking and Italian favorites. This is a tour that EVERYONE would enjoy!
CANCELLATION POLICY
In the event that you have to cancel your trip due to unforeseen circumstances, we offer the following trip cancellation policy.
It may be advisable to purchase travel insurance to provide coverage for unexpected travel cancellations, medical emergencies and baggage loss. Information on travel insurance will be provided upon request.
Notice of trip cancellations received more than 12 weeks prior to departure are subject to a cancellation fee of 15% of the total tour package price.
Notice of trip cancellations received 8 weeks prior to departure are subject to forfeiture of 30% of the total tour package price.
Notice of trip cancellations received within 5 weeks of departure are subject to the forfeiture of 90% of the total tour package price.